Kugels™ are the traditional choice for decorations in central Europe. Each "kugel" is hand blown glass, and completely unique.
Kugels™ are displayed from interior arches, ceiling fixtures, curtain rods, Christmas Trees, holiday garland, hand railings, or wherever you like. These beautiful hand blown glass window ornament are traditionally known as symbols of friendship. They sparkle in the light the way a good friend brings sparkle to your life. The colors swirl and mingle across the surface of the ball enhancing each other just as the talents and varied personalities of your friends bring color to your life. These balls have intriguing ripples and ridges making them a delight to touch as well as behold.

Just Like Friends...No Two Are Alike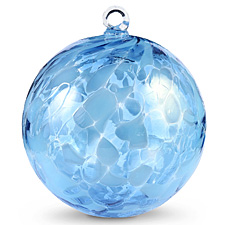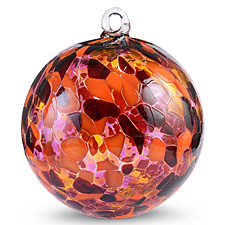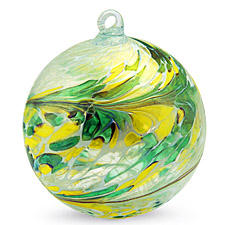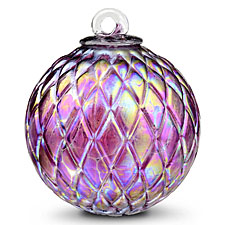 While focused upon the Kugel you are gazing,
Let your spirit round you on a journey that is clearly amazing.
Spheres of light to brighten your home,
cometh no evil in your house to roam.

Catching the sun & reflecting the moon,
Hung together a garden in bloom!

All different shapes; All different sizes;
You can give them for every occasion that arises.

Be creative: as no two are exactly alike,
Hang from a window. Hang from a light.

Wherever you hang them they are sure to delight!

Whether floating on a pond, or hanging in a tree'
Kugels™ are meant to be shared.. between you and me!


HISTORY
The first kugels were blown in Lauscha, Germany as early as 1820. These were big and hung from ceilings in churches, schools, stores and homes. These had glass hangers pikes with corks and wax with a wire through the cork to hang from.
Holiday trees in 1840 were adorned with apples, other natural fruits and nuts, cookies, popcorn and cranberries, as well as homemade paper items, candles, cornucopias, and presents. It was during this decade that the first commercially produced Christmas decorations appeared. In 1848, the first glass ornament, a kugel, appeared in Germany. The kugel was a large hollow ball ranging in size from 1 inch to 18 inches. Smaller ones were used for tree decorations. The blown, molded, figural glass ornaments that we are familiar with today evolved from the tradition of blowing kugels. These ornaments were not sold in America until 1880.

Kugel™ is a German word that means ball. Collectors used this term to describe any early thick glass ornament with a decorative cap. Early Kugels were too heavy to hang on tree branches; instead, they were suspended from the ceiling. Soon after their invention, the Germans decided small Kugels should adorn tree boughs. Shapes such as grapes, berry clusters, apples and pears
became popular. F. W. Woolworth is given credit for bringing Kugels™ to America in the 1880s. These however were not traditional Kugels, they were lamp blown Kugels™. These morphed into lighter, painted ornaments like we know today. His initial investment of $25 turned into sales of at least $25 million worth of Kugels over the next several years.
Smaller kugels were also kiln blown starting in the late 1840s. The brass caps started in the early 1850s. In 1859/1860 Kugels™ were first imported into America.
The 1860s also saw the first gas works in Lauscha (1867) and lighter weight early kugels were now also blown at the lamp. These are smaller (usually) and lighter than the kiln blown kugels. These were free blown and mold blown into pine cones and other shapes. Unlike later light-weight pieces, the color in kugels is always IN the glass, not painted on the glass.
Kugels™ were still made in the 1870s and 1880s but waned in popularity as the lamp glass ornaments got more detailed. Even though small 3/4" and 1" kugels were made for feather trees, people wanted the newer lighter weight, painted ornaments. The heavier kugels died out around 1910.
Around 1920 the French started blowing kugels in a new variety of colors. The main company was Vergo Glass located outside of Nancy. Vergo pieces have VG1721 marked on top...which is when the glassmaker was founded. French pieces are much lighter than the older German pieces and have a more Art Deco cap design or a plain ribbed cap design. French Kugels ceased in the early 1930s.
Collectibles-
Colors Most Common to Rarest:
Silver - Light Green - Gold - Amber/Copper - Moss Green - Olive Green - Cobalt Blue - Blue - Light Blue - Cerise/Pink - Garnet Red - Pale Amethyst - Amethyst - Ruby Red - Orange.
KUGELS TODAY
European Art glass balls for holiday decoration are still commonly referred to in Austria and Germany as "Kugels". Kugels range in shape and styles, according to the artist that made them and the season they are displayed. It is quite common to display egg shaped kugels at Easter and Heart shapes at Valentines day. Quality kugels are hand blown or mouth blown art glass. Most are blown into a apple wood mold to retain shape and consistency. Some artists free blow their kugel designs, thus ending up in an irregular shape. Air bubbles are common, and expected by the collector.

In America these glass balls are marketed in many ways. Witch balls, spirit balls, spirit catchers, friendship balls, gazing balls, wishing balls, and so on. Each having a little bit of home grown folklore attached to make the item unique or extra special.

IN YOUR GARDEN OR POND

Our blown glass balls are sealed air tight and therefore serve as beautiful accents floating on the surface of any water garden. They have the added advantage of offering a hook, which can be used to drop a line anchoring the ball. Without an anchor, free floating pond balls will cluster in one corner of the pond, but if weighted, our balls stay aesthetically placed. We recommend the use of non-lead weights because lead could poison pond fish.

Floating glass balls may even protect your pond fish from predators. Folklore suggests that raccoons are frightened by the shiny surface of the balls and will stop poaching your pond pets.

Add other splashes of color to your garden by hanging our blown glass balls from trees or on garden hooks. They will withstand most weather conditions, as long as they can't swing and bump into a hard surface.