Within our website you can find the most unique collection of hand crafted, wrought forged iron, and art glass home accents both for the home and garden.
Iron Elegance is your place to shop for forged wrought iron and art glass. Our specialty is the combination of iron and art glass, but we have several selections of pottery, painted glass, and metal sculpture as well.
Each item is hand made one piece at a time.
All of the items presented here are hand crafted and will vary slightly, as any hand made product does. We hope you enjoy your visit to our wrought iron store, and please contact us with any questions, product ideas, or special requests.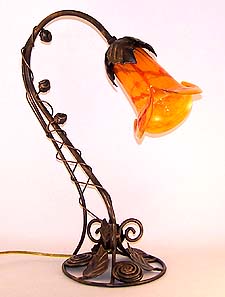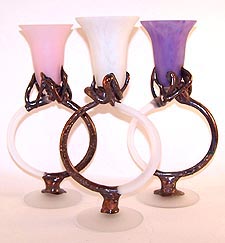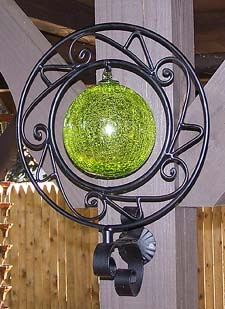 Our Mission
Our mission at Iron Elegance is to provide a great product, value and service to our customers. As a independent, family operated company, we steer away from the stigma of large, impersonal online retailers. A person, not a robot, answers calls and emails. We personally select and pack each piece shipped out to you. As part of our mission, we are always willing to help our customers and encourage comments and suggestions. We consider each sale with our customers as a personal endeavor and hope that once the goods are received, a reaction of being astonished by our art glass is achieved.
Our Story
Iron Elegance started in 1999 by David Simpson. Iron Elegance is exclusively a retail website. As time has gone on, we have refined and added to our product line to better suite our retail customers. We currently offer our products wholesale under our parent name, Iron Art Glass Designs.
Iron Elegance was initially started as a second source of income for David while on his travels to Europe for the Steel Industry. As interests changed in the market, David eventually focused all effort into Iron Elegance and eventually built what is currently operating today as Iron Art Glass Designs. Of course it wasn't that easy, but with the continued support by our customers, Iron Elegance has seen successful growth since it's conception.
Our Products
When our company started, we first started with a small selection of home accent, wrought iron pieces. We soon learned that while these designs were popular, they just weren't enough selection to choose from. As time went on we learned what products were better than others but also strives to provide the best possible selection for our customers. In 2000, we first produced a small assortment of Glass Balls known as Kugels. As time has gone on, we have learned how great this product is not only for our company but for our customers.
Kugels are commonly referred to as Friendship Balls, but we like to refer to them as their traditional name from Europe. Kugel is translated as Ball in German, so it can mean a number of things. However, in our sense it means a basic glass ornament of color that is meant as a traditional house decoration. Kugels are our best selling product and are offered in over 200 designs in dozens of shapes and sizes. We are absolutely certain we have the best and largest selection of glass ornaments in the United States.
As time has gone on, we have also developed Witch Balls, Hummingbird Feeders, Gazing Balls and other various products based on the ideal of a glass ball. On top of these products, we are also currently making several products that combine the glass ball with a piece of decorative iron. An example is our SunStick which takes a glass ball and hangs it in a garden stake.
While we focus intensely on our glass ball products, we also love to create a large selection of decorative glass pieces and practical wrought iron items. Our fine glass pieces can be considered a great value with several designs coming from top glass blowers in the Carpathian Mountains. We also stock several glass pieces that are hand painted using organic paints.
With over 2,000 different items available with our company, you have a large selection of products to choose from. If that isn't a good selection, we can also provide custom products for you company if you meet certain minimum order specifics. So whatever you need may be, Iron Elegance will work to fulfill it.